Steve Liesman Biography:- Who is Steve Liesman?
Steve Liesman is an American senior economic reporter and a journalist at CNBC. He covers all aspects of the economy including major economic indicators and Federal Reserves. Steve hosts other CNBC programs on all business days as well as the "Squawk Box" which airs 6 AM-9 AM ET. Steve is also a guitarist and plays often in a Grateful Dead cover band. He has also hosted the pay-per-view broadcast of "FareThee Well" by the band.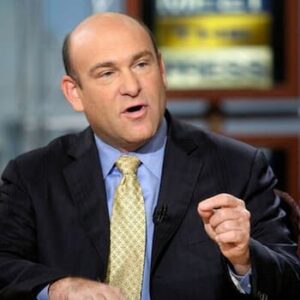 Apart from working with CNBC, Liesman was the business editor for The Moscow Times, in which he was, the founder of the business editor for the first English-language daily newspaper in the country. He assisted in creating the publication's stock index, which was the first in the country too. Steve has also worked as a business reporter for The Sarasota Herald-Tribune in Sarasota, Fla., and the St. Petersburg Times in St. Petersburg, Fla.
Steve has been lucky in his career, he was among the reporting team who were recognized with a Pulitzer Prize for stories about the crash of the Russian financial market. He has also won an Emmy award for covering the financial crisis.
How old is Steve Liesman? Age and Birthday
Liesman is 58  years old, born in Bronxville, New York, USA on May 21, 1963. He celebrates his birthday every 21st May of the year. READ MORE: Mara Gay (MSNBC), Bio, Age, Height, Husband, Nationality, Net Worth, Salary & NEW YORK TIMES
How old is Steve Liesman? Height, Weight, and Other Measurements
Liesman is an average man in height and stands at an estimated height of 5ft 3in (Approximately 1.6 m). His other measurements including body weight are yet to be updated.
Steve Liesman Family Background
| Parents and Siblings | Nationality and Ethnic Background
Lieman was born and raised in Bronxville, New York in the USA. Steve holds American nationality and white ethnicity. Unfortunately, Steve has not shared much about his parents and siblings with the public.
However, he shared in an interview that his dad taught him how to be a perfect negotiator when he bought his first guitar. Moreover, he was trying to negotiate with the salesman but the conversation seemed not to have a conclusion.
Furthermore, his dad intervened and engaged in a talk with the salesman and got the guitar price lowered by $ 50. Steve said he learned how to treat people nicely and always listen to their side unfortunately he concluded by saying he has never known what exactly his dad shared with the salesman.
Steve Liesman Education Background
Liesman graduated from the State University of New York Buffalo with a bachelor's degree in English. He also has a master's degree from the Colombian Graduate School of Journalism.
Steve Liesman Wife/Spouse and Children:- Is Steve Liesman married? Who is Steve Liesman married to?
Liesman is happily married to Aaliyah Santelli. the duo dated for a while before they exchanged vows. Moreover, they have been seen working together in helping the Hurricane victims in Haiti which caused huge damage to properties and left hundreds with injuries. The couple is blessed with two children and both are boys although their names have not been revealed.
Steve Liesman Band
Steve has been a guitarist since he started playing guitar at 16 years of age. He is a member of two bands that include Stella Blue's Band and The Mooncussers.
Liesman has also been a great fan of the Grateful Dead since he was 15 years. He has been very lucky in his passion for music and he recently got a chance to perform with Bob Weir who is one of the founders of the Sweetwaters Music Hall near San Francisco in an event to raise funds for veterans.
Steve Liesman CNBC Wikipedia
Liesman joined CNBC from The Wall Street Journal where he worked as a senior economics reporter covering academic research, international economics, monetary policy, and productivity. Liesman formally worked as an energy reporter, and Moscow bureau chief in the journal.
Moreover, he won an Emmy award for covering the financial crisis. Also was a member of the reporting team that was recognized with a Pulitzer Prize for stories documenting the crash of the Russian financial markets.
Steve is currently the senior economic reporter at CNBC. He reports on all features of the economy plus the Federal Reserve and major economic indicators. Liesman is always seen on other business programs of the day at CNBC as well as "Squawk Box"
Steve Liesman Salary:- How much does Steve Liesman make?
Liesman earns an estimated salary of $ 600,000 per year.
Steve Liesman Net Worth
working for CNBC and his band together with his other investments, there is no doubt Liesman has built a fortune over the years. His estimated salary ranges from $1.5 million to $5 Million.