Michelle Yeoh Marries Longtime Fiancé Jean Todt
Jean Todt: After a 6992-day engagement, Michelle Yeoh Wed Jean Todt! On Thursday, 19 years after the groom's initial proposal, the Oscar-winning actress, 60, and her longtime partner, former Ferrari CEO Jean Todt, were married in a private ceremony in Geneva.
Just who is Jean Todt?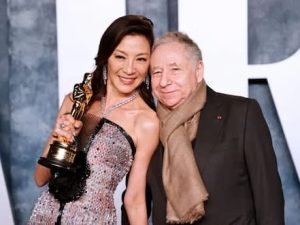 Todt, 77, was born in Pierrefort in February 1946. He is a native of south-central France and the son of a physician. Finally, he moved to Paris to enroll in classes at the École des Cadres School of Economics and Business.
Todt was a world championship rally co-driver before he became an executive in the racing industry. He started driving in 1966 and has since won the Rally de Portugal, the World Rally Championship, and the Tour de France Automobile Rally.
He was the CEO of Ferrari from 2004 to 2009 and currently serves as the director of Peugeot Talbot Sport. Todt presided at the Fédération Internationale de l'Automobile from 2009 to 2021. The group is in charge of managing the Formula One World Championship.
On the charitable front, he serves as both the United Nations Special Envoy for Road Safety and a trustee on the board of the FIA Foundation for the Automobile and Society.
Nicolas Todt, his only child, is a racing champion and a driver himself. READ ALSO: Michelle Yeoh Bio, Young, Age, Spouse, Height, Movies, Net Worth
Michelle Yeoh Wed Jean Todt: How did Todt and Yeoh first connect?
Todt and Yeoh first connected in Shanghai in 2004, the year before they became engaged when the actress was there for Ferrari promotions.
Why did Yeoh and Todt wait so long to tie the knot?
Yeoh remarked, "We've been planning to get married for such a long time," in a 2021 interview with the Guardian. Sometimes we think, "Wait, didn't we already do that?
When asked where home actually was, Yeoh responded, "Wherever the people that I love are," in the September 2022 issue of Town & Country, where she talked about how frequently the couple travels for both work and pleasure. Anywhere that Jean is.
So, although the marriage wasn't the most crucial aspect of their relationship, it was nevertheless a major turning point. Felipe Massa, a former Formula One driver for Ferrari, posted a carousel of images from the momentous occasion, one of which showed the program welcoming visitors and briefly describing their experiences.
"On June 4, 2004, in Shanghai, we had our first meeting. On July 26, 2004, J.T. popped the question to Yeoh, and she said yes," it said. "Today, on July 27, 2023, in Geneva, after 6992 days, we are so pleased to share this special occasion with our loved ones!"
Yeoh chose a nude beige bridal dress with lace accents for the Geneva wedding.
Who else has Yeoh had romantic relationships with?
Dickson Poon, the head of the studio, and Yeoh were once wed in 1988. She put her career on hold to try to have a family with him. Michel decided to stop performing after she got married. It wasn't due to pressure from Dickson and his family or anything of the sort; in Asia, it is common for women to be [expected to be] married and stay at home with their children or become mothers as soon as possible while not working.
But since I can't multitask well, I made the decision to leave at that point. I was in awe of some of the actresses who managed to balance motherhood, dropping off and picking up the kids from school, and acting or producing. Mind-blowing, that. I believed that if I kept performing, I would be gone from home all the time. How I could be married and have a successful [job] baffled me.
She said, "As it turned out, I was unable [to have children], so we got a divorce." And if I'm being completely honest, I didn't want us to harbor resentment toward one another for ten years. Because sons and daughters represent a continuation and a heritage in Asian households, people wish to have them. You have to deal with it after you come to terms with the fact that you cannot have children. The curveballs that are thrown your way are dealt with by you.
After the divorce, she resumed acting in the Jackie Chan-starring picture Supercop. She dated a doctor called Alan Heldman before she met Todt, and the two got engaged in 1998 before splitting up in 2000. SUGGESTED: Why Sofia Vergara & Joe Manganiello Split After 7 Years of Marriage
Jean Todt Net Worth
Jean Todt's huge net worth is not surprising given his multiple victories and eventual promotion to the top ranks in motorsports. Todt is still thought to be worth $16 million despite spending decades immersed in the world of auto racing and making significant donations to numerous causes.
According to a number of articles, some of which give him full credit for $18 million, that is the case. However, the $16 million mark appears to be the most accurate figure because it is more frequently mentioned. Todt's retirement fund grows to a whopping $56 million when his enormous worth is combined with that of his new wife, giving the couple more than enough money to live comfortably.