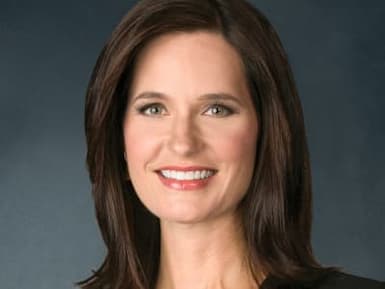 Contessa Brewer Biography
Contessa Brewer is an American journalist currently working at CNBC Business News. Brewer serves as a reporter, covering gaming and casinos. Moreover, Contessa also works as a fill-in anchor. Previously, Brewer worked as a host of the weekend program "Caught on Camera" at MSNBC. Nonetheless, she also worked as a reporter at NBC News as well as an anchor at WNBC a flagship station for NBC.
Contessa Brewer Age and Birthday
As of 2021, Contessa is 47 years old. She was born in Parsonsfield, Maine, the United States on March 16, 1974. Moreover, Brewer celebrates her birthday every 16th March of the year.
Contessa Brewer Height / Measurements
She is averagely tall in stature. Brewer has an average height of 5 feet 3 inches (Approx. 1.6 m). However, she has not yet disclosed any information about her other body measurements to the public at the moment.
READ MORE: Bertha Coombs CNBC, Bio, Age, Husband, Illness, Salary & Net Worth
Contessa Brewer Family / Parents and Siblings
Brewer has not yet disclosed any information about her parents and siblings or even relatives to the public. Therefore, at the moment all the information regarding Contessa's mother, father, and siblings is currently unavailable.
Contessa Brewer Married | Husband | Wedding
She is a married and a family woman. Contessa is married to her loving husband Don Senor. However, more details about their marriage as to whether she had a wedding and when they tied the note is currently unavailable. Moreover, Brewer and her husband Don are proud parents to beautiful and adorable twin sons. Contessa gave birth to her twin children in 2013. Furthermore, she has been one of the best parents despite her tight schedule Brewer finds ample time with her twin boys.
Contessa Brewer Children | Twins
Brewer and her husband Don Senor are proud parents to twin sons. Furthermore, Contessa gave birth to their adorable sons in 2013. she resides in New York with all her family.
Contessa Brewer Education
Brewer is a magna cum laude graduate of Syracuse University's S.I. Newhouse School of Public Communication and Honors Program. Prior, She graduated from Sacopee Valley High School, Hiram Maine in 1992. Nonetheless, Contessa is also a Contemporary Europe certificate holder in political studies in Strasbourg, France.
Contessa Brewer CNBC | MSNBC
Brewer is a reporter and a fill-in anchor at CNBC showing up at the network's "The News with Shepard Smith" at 7 pm ET newscast and appears throughout Business Day. Brewer began working at CNBC in 2017 and currently, she is based at the network's Global Headquarters. Moreover, Contessa's coverage at the station includes major news stories like the coronavirus pandemic, trade wars, presidential elections, and hurricanes. Moreover, her special coverage also includes gaming and casinos as well as the insurance industry.
Contessa began her journalism career in Reno, NV then left for Springs, CA followed by Milwaukee, WI. These are the places where Brewer first found a breakthrough into journalism. Nonetheless, as a reporter, she has contributed to various networks including MSNBC, CBSN, NBC News, WNBC as well as CBS News. During this time, Contessa covered major stories such as celebrity news, natural disasters, debt ceilings, terror attacks, government shutdowns, and presidential elections. Furthermore, at the time she worked for MSNBC, Brewer anchored "Caught on Camera" which was a long-running primetime series as well as the daily news programs of the station. Contessa is a well-recognized National Emmy-Award-winning journalist and is also well known for her big political stories as well as marathon on-air reporting of breaking news.
Contessa Brewer Salary
Brewer earns an annual salary of $100,000 working as a CNBC reporter.
Contessa Brewer Net Worth
He has accumulated a good amount of wealth over the entire period she has worked. Contessa's estimated net worth is $1 Million.
Is Contessa Brewer married?
Yes. Contessa is married to Don Senor.
Dan Senor and Contessa Brewer
Don and Contessa are a couple. The two are legally married with two sons who are twins and were born in 2013.
Contessa Brewer Home
Brewer lives in New York together with her husband Don Sonor, twin sons as well as a dappled dachshund.
How tall is Contessa Brewer?
Brewer has an average height of 5 feet 3 inches (Approx. 1.6 m).
How old is Contessa Brewer?
She is 47 years old. Born on March 16, 1974, in Parsonsfield, Maine, United States of America.